Loading...
Front Desk Attendant (part-time) - MIT

Front Desk Staff
Cambridge, MA
•
•
Part-Time
Front Desk Attendant - Cambridge, MA (MIT)
Part-time, approximately 10 hrs/week
Opening shifts: between the hours of 5:30am to 3:30pm
MIT Recreation, managed by HealthFitness, is looking for individuals who are passionate about customer service to join our recreation team on-campus at the Massachusetts Institute of Technology in Cambridge, Massachusetts. As a Front Desk Attendant, you will deliver professional and positive customer service experiences at the Zesiger Sports and Fitness Center and/or the Alumni Pool and Wang Fitness Center for MIT's Department of Athletics, Physical Education, and Recreation. You will assist patrons with membership transactions, program registrations, private lessons sales and act as a knowledgeable resource for member questions.
The posting is for opening shifts between the hours of 5:30am and 3:30pm.
What you'll be doing
Assist the Supervisor/Point of Contact in opening or closing tasks related to the main desk.

Use Club Automation software to process registrations for guest passes, programs, private and group instruction, memberships and lockers.

Assist with the daily organization, data entry and processing of membership files.

Enforces building entrance policies.

Enhances the lives of our community by demonstrating the type of behavior and decision-making skills that are in line with our quality standards (Safety, Approachability, Knowledge).

Other duties as assigned.
What you'll need to have
High School Diploma or GED required.

Front-line customer service experience a plus.

Experience as a cashier, point of sale responsibilities a plus.

Adult CPR/AED/First Aid certification from American Heart Association, American Red Cross or American Safety & Health Institute required within 30 days of hire.
You may be eligible to receive additional information about the compensation and benefits for this role, which we will provide upon request. You may contact 800-636-3304 or jobs@hfit.com for assistance.
ABOUT US
HealthFitness, a Trustmark company, is a proven leader in providing fitness solutions that engage and connect people both on-site and online, to create a strong community of health. Our work focuses on creating meaningful connections with each of our participants to help them move forward. We foster each individual's journey by creating communities of health within the organizations we serve – so that everyone is supported. As an employee of HealthFitness you will enjoy a variety of health and financial benefits and receive competitive pay. We provide personal and professional support, training and development and flexible employment opportunities.
HealthFitness is committed to leveraging the talent of a diverse workforce to create great opportunities for our people and our business. EOE/AA. Race/Color/Gender/Sexual Orientation/Gender Identity/Religion/National Origin/Age/Disability/Veteran
Trustmark is pleased to have earned recognition from the Chicago Tribune as a Chicago Top Workplaces Award winner for third consecutive year. The award is based exclusively on Trustmark associate responses to an anonymous survey. The survey measured 15 key drivers of engaged cultures that are critical to the success of an organization.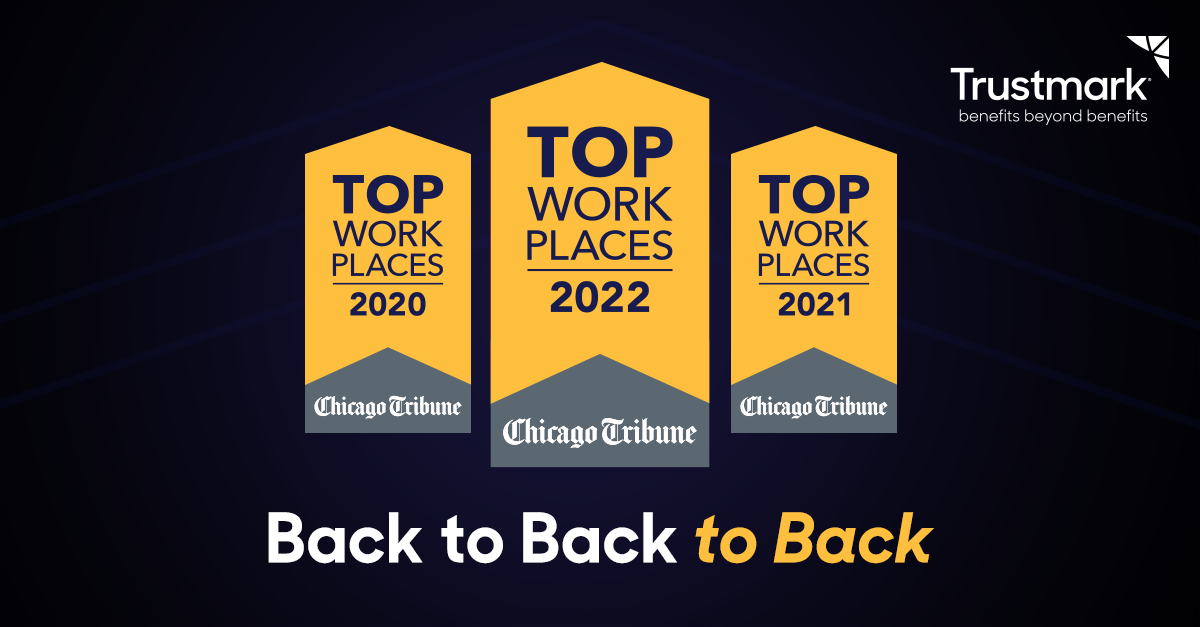 Keywords: customer service, entry level, receptionist, administrative assistant, clerk, greeter, salon, team member, agent, representative, membership, associate