Health Fitness Professional (part-time)

Fitness, Recreation & Aquatics --> Part-Time
Downers Grove, IL
•
•
Part-Time
HealthFitness is looking for Health Fitness Professionals to join the fitness team at our new client site in Downers Grove, IL. In this position, you will coordinate, implement, and/or deliver health and fitness programs and services, promotions and outreach activities. You will be responsible for providing outstanding service to members and program participants to maximize participation, outcomes and customer satisfaction. This is a part-time position working 10-15 hours per week.
Duties & Responsibilities:
Supervises facility; interacts with participants and monitors equipment and participant safety.

Provides individual and group exercise instruction; educates participants on proper techniques to maximize exercise safety and effectiveness.

Coordinates and leads a variety of HealthFitness and program-specific health improvement programs & promotions.

Conducts fitness testing and assessments and advises participants of results; designs individualized programs to meet the participant's interests, abilities and goals.

Researches health & fitness educational topics and identifies appropriate participant educational materials; conducts health education seminars/presentations.

Participates in membership drives to acquire new participants; enrolls new participants and conducts facility, program and equipment orientations.

Promotes program offerings and conducts outreach activities to increase participation and re-engage inactive participants.

Creates and maintains bulletin boards, newsletters and other marketing & communication materials.

Coordinates internship program; oversees the recruitment, training, supervision and evaluation of student interns.
Education, Experience & Certifications:
Required:
Bachelor's degree in a related field (Kinesiology, Exercise Science, etc.) or 2+ years' fitness and wellness industry experience, along with fitness industry certification(s) from a HealthFitness approved provider.

Current CPR/AED and First Aid certifications from American Heart Association, American Red Cross or American Safety & Health Institute.
Preferred:
1+ years related experience.

Industry recognized Group Exercise certification.

Personal Training certification from ACE, AFAA, ACSM, NSCA or NASM.

Proficiency in fitness assessment and exercise prescription.

Strong interpersonal communication and customer service skills including the ability to motivate others.

Competency in the delivery of HealthFitness and site-specific programs and services.

Computer proficiency in Microsoft Office programs including at minimum Word, Excel and Outlook.

Ability to effectively organize and prioritize work demands including project coordination.

Ability to work effectively both independently and as part of a team with enthusiasm, initiative and creativity.
HealthFitness is committed to leveraging the talent of a diverse workforce to create great opportunities for our people and our business. EOE/AA. Race/Color/Gender/Sexual Orientation/Gender Identity/Religion/National Origin/Age/Disability/Veteran
Trustmark is pleased to have earned recognition from the Chicago Tribune as a Chicago Top Workplaces 2020 Award winner.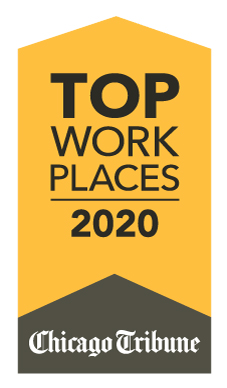 Health Fitness Professional from HealthFitness on Vimeo.